1) Bleak House by Charles Dickens
I love reading Dickens in the winter. Big books are perfect for the long holiday, and Dickens' dark humor goes well with the weather. While my favorite so far is Hard Times, I have not yet read the most critically acclaimed of Dickens' works: Little Dorrit, Bleak House, or David Copperfield. I hope to enjoy Bleak House.
2) Ecclesiastes through the Centuries by Eric S. Christianson
Most people have never heard of Ecclesiastes, but it is one of my favorite books in the Bible. I first read it when I was 14. I didn't realize that the Birds' song "Turn, Turn, Turn" was inspired by chapter 3 of Ecclesiastes. But I was the most surprised by the content of the book. I never thought I would find "there is nothing new under the sun" and "meaningless, meaningless" in the Scriptures. It has definitely become my obsession. I read it on the day Trump was elected. Anyway, Christianson's book is a study on the reception history of Ecclesiastes. Jerome, Gregory the Great, Martin Luther, and even Voltaire and Henry James reflected on this book. This controversial book has inspired the most interesting biblical commentaries.
3) To the Lighthouse by Virginia Woolf
Mrs. Dalloway is one of my favorite books, and I enjoyed Orlando. So, I look forward to reading To the Lighthouse. This will be a buddy-read with a fellow booktuber.
4) The Pillars of the Earth by Ken Follett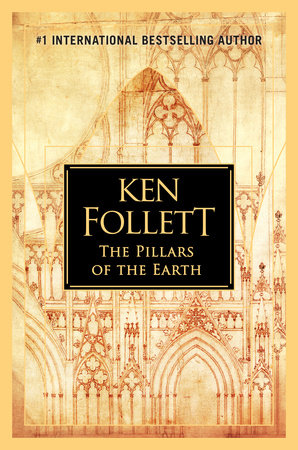 Everyone and their brother has praised this book. This is historical fiction set in 12th century England and centers on the building of a gothic cathedral. When I was a child, I read The Ramsay Scallop by Frances Temple for school. That story follows two children on pilgrimage to Santiago de Compostella, Spain. While the other students found the novel boring, I loved it. This was one of my first encounters with the Middle Ages. If The Pillars of the Earth mesmerizes me the way The Ramsay Scallop did, I will consider that a success. I don't expect brilliant prose. But I do expect an engaging plot with complex characters. And lots of sinful monks.
5) The Secret by Francesco Petrarch
The 14th century Italian Humanist Petrarch wrote three fictional conversations with St. Augustine. This is my most anticipated read. Even though the translation by Carol Quillen has been out for a while, I purchased the book at the end of May. Augustine was a great observer of human nature. From my understanding, Petrarch suffered from depression and even wrote about it. I wonder whether Petrarch will mention his mental illness in The Secret. This dialogue series seems like a cross between an Augustinian dialogue like On Free Will and Boethius' Consolation of Philosophy. In the latter work, Boethius imagines a dialogue with Lady Philosophy. In The Secret, Augustine and Petrarch dialogue before Lady Truth. It will be interesting to compare Petrarch to Boethius. I definitely have high expectations for this work.